WorldCraft : 3D Build & Craft Apk
Description:
Title: WorldCraft : 3D Build & Craft
Publisher: Playlabs
Mode: Multiplayer, Survival
Category: Arcade, Adventure
Platforms: Mobile
Downloads: Android / iPhone
Download Version: 2.7
Apk File Size: 46.0
last updated: Aug. 17, 2017
Android users, rejoice! The lovable world of Minecraft has finally made its way to mobile devices, and its expansive world is just as charming on the smaller screen as it is on your console.
Gameplay
Like Minecraft and Skyrim, a player's success in WorldCraft depends upon their ability to level up to face new challenges. You start the game as a wee crafter with little more than his tools, but experience points and achievements allow you to slowly build more and more.
The first thing you'll want to build is a shelter. WorldCraft's nights are filled with the howls of zombies and pumpkin heads just waiting to devour you without a second thought. This part requires a bit of strategy and can be challenging for first time players. How will you keep zombies out with just the basic materials? Will the pumpkin heads be able to creep in through the unsecured doorway, or will you catch them in the act? Half of the adventure is the trial and error system to learn what methods work and which will get you eaten.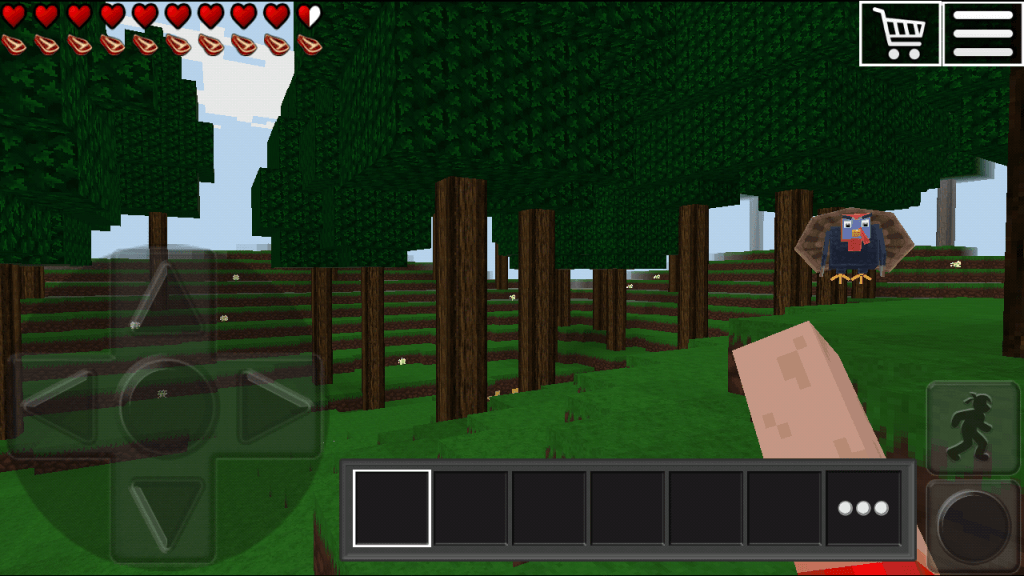 Pre-designed 3D worlds are present for you to wander around in, but you can also build your own worlds using the 3D maps feature. You can then upload the level to play online with others. Speaking of playing online, multiplayer far outranks single player on the "fun" scale. Playing with others gives you the chance to pool your resources for stronger shelters and more diverse creations. Password protected maps allow you to choose which players you let in so that you don't have to play with strangers (unless you want to). The online chat features gives you the opportunity to chat with other players and strategize, making World Craft quite the social hub.
Review
WorldCraft lets you take Minecraft on the go for the same fun experience you have when playing at home. The possibilities are endless for crafting and interacting with other players in a sandbox world. You can even tame animals and become a regular Dr. Doolittle (for those old enough to remember this reference, we applaud you). After all, who doesn't want their own pet deer? Just watch out for the zombies; they might find your pet pretty tasty, though they much prefer your brains.
Download WorldCraft : 3D Build & Craft APK game here: