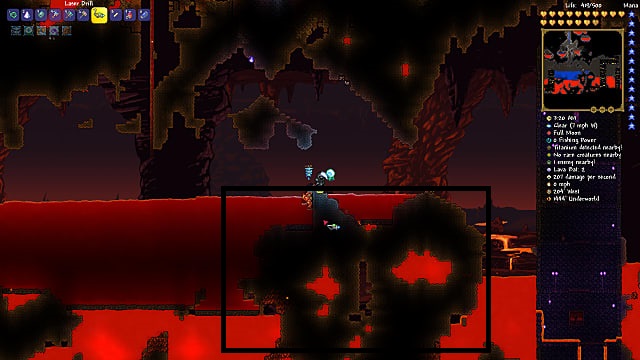 best terraria mods guide
Terraria is a 2D action and adventure-based sandbox game. In 2011, it started with Microsoft Windows, and later spectrum widened to other OS, handhelds, consoles, and other mobile platforms. Moreover, the best terraria mods are the most exciting and fantastic craft game for gamers. In this game, one can dig to gather raw materials, discover the new terraria biomes, structures, and boundaries. Also, one can encounter foe as well as friends in expeditions.
Terraria bosses want to tear you apart into pieces having terrifying voices and notions. On the other hand, terraria NPC and plenty of resources are there for the players to defend and fight on their terms. Furthermore, gamers can build anything from anything using terraria crafting. For example, a player can craft a cactus chair, cactus sword, and much more from a cactus plant.
Thus, in terraria, players are the king of their world. They build, fight, explore, and discover new horizons. Since the inception of terraria, more than 20 million gamers around the world have participated in the quest. One can play terraria as a single-player as well as multiplayer. When you install terraria and play it for the first time, it seems to be a simple 16-bit game. However, when you start digging in, terraria is complex and diverse in its entirety. Also, you can switch to many terraria mods available on the internet to make the game more and more enjoyable.
Terraria best terraria mods
This Terraria players, who are too much into this game, call themselves Terraria veterans. Terraria veterans' community has developed and modified terraria to the next new level. Terraria mods are the modification made by the veterans.
These different terraria mods customize graphics, gameplay elements, bosses, terraria NPC, tools, music, and much more. The community has also developed a terraria wiki for the newbies for understanding. Some terraria mods are worth playing. These terraria mods created new worlds and horizons in the sandbox universe.
Some of the best Terraria mods
Let us dig into the terraria mods world more to expand it to the next new level. There are some of the best terraria mods available online worth playing. Out of these, some mods change the core gaming so much that in these mods, you cannot synchronize with other players in multiplayer mode.
Some of the best terraria mods are:
Toploader
Calamity Mod
Thorium Mod
N Terraria Mod
Super Terraria World Mod
imkSushi's Crafting Mod
Recipe Browser Mod
Boss Checklist Mod
Start With Base Mod
VeinMiner Mod
Fargo's Mutant Mod
The universe of Swords Mod
Toploader
Toploader is one of the best terraria mods for you when you are entering the world of modification in Terraria. We can say that the mod loader is the mother of the mods in terraria. This allows you to search and install other mods you are looking for in the world of terraria. You can find most of the best mods on our list in Toploader.
As pretty much clear from its name that this Mod is a loader. This Mod is a must-have mod if you want to experience the diversity in its entirety. You must make sure that you will acquire it first before any other mod. One more thing to mention is that this mode is compelling. Please do not overdo it, or else it will crash the whole game.
Calamity Mod
Calamity mod is one of the largest and best terraria mods to adapt and play. You will find 100 plus enemies, 20 plus armor sets, 400 plus weapons, and more than 100 accessories with a new class. Calamity mod mostly focuses on the events right after Moon Lord. It will extend hours of endgame content.
You will find five new biomes and many new structures. Moreover, There are a lot of other variegated changes available for you to vanilla gameplay. You will also find more than 30 songs and over 50 recipes for uncraftable vanilla items. In calamity mod, you will have many unique abilities. On the other hand, bosses will also be more potent than before.
Thorium Mod
Thorium mod is also one of the must-play best terraria Mod for terraria veterans. When you start playing with thorium mod, it is not possible that you revert to any other. In the thorium mod, you will have two more new classes. Because of these, you will feel more like RPG play and get curious to find out what is next. All of the capabilities and powers will get on increasing as you move forward in the gameplay. It is one of the most expansive and one of the best mods of terraria. You will have nearly 2000 items, more than ten new boss fights, new enemies, and very new biomes.
N Terraria Mod
In thorium mod, you feel like an RPG, but what if the whole gameplay of turns into an RPG. Are you getting bored with a lot of free time to roam around? That is a right guess; switch yourself to the N Terraria mod. You can call N Terraria Mod a Terraria RPG. This Mod is standalone and has its executables.
This Mod also offers you new races, items, monsters, mysteries, realms, and more. N Terraria is also in the must-play list of almost every terraria veteran. Give it a go, and you will enjoy one of the best RPG terrain mods gaming experience.
Super Terraria World Mod
Super Terraria World (STW) mod is the same as N Terraria but with some super modifications. From its name, it is a Super Terraria multiplayer RPG mod. This Mod connects the whole world of terraria veterans to come together and follow the quest. There is an additional feature of chatting from NPCs.
You can move from one world to another in Super Terraria mod. As the world is round, so when you complete the circle, you end up where you started. You can make your private world. Plus, you can invite your friends or strangers to join you in the quest. Hence, any possibility can be created in a multiplayer environment.
In addition to all, this Mod is also the best standalone terraria Multiplayer Mod. Lastly, STW is a masterpiece for the multiplayer online RPG. Moreover, terraria wiki is there to help you with the installation process and any other new gig in STW.
imkSushi's mod mod
Are you unable to find biome keys, accessories, different crafting recipes, boss loots? imkSushi's crafting mod is waiting for adoption. This mode does not provide you any extra weaponry, powers, armors, etc. But, imkSushi's method helps you in finding what you might need and did not get.
imkSushi's Mod makes your life easier.
This Mod must be in the must-have list of every Terraria player as it will help you out a lot and make your life more comfortable in the world of terraria. It is a well-designed mod for the action-oriented terraria players.
Recipe Browser Mod
This Recipe Browser Mod makes crafting a lot easier to deal with. Recipe browser mod works with tModLoader mod. This should be a must-have for the terraria players. As it will let you see all the possible things you can craft.
Moreover, it will tell you what item you want to fulfill the recipe. Even more, the recipe browser will also tell you that which enemies can drop those items. In other words, the recipe browser mode is your terraria wiki while you are in the middle of the game.
The recipe browser mod makes your progress faster and smarter.
Boss CWhat more is needed if everything is at your fingertips to discover.
hecklist Mod

Very clear from its name, Boss Checklist mod, In this Mod, you will be having a checklist of all the bosses you will encounter in the terraria world from time to time. This Mod consists of a simple list when you kill a boss a tick will appear on the checklist.

For example, when you kill the Eye of Cthulhu, Slime King, or any other boss, the tick will appear on the checklist for that specific boss. This will help you remember what you have done in the terraria world. This is the best way to keep your to-do list up to date in the terraria world.

This will never let you forget what you did and going to face on the voyage. Therefore, the Boss checklist is also among some of the best terraria mods that must be loaded when you are about to start your journey.
Start With Base best terraria mods.
This is one of the best terraria mods for you if you do not want any hassle in the quest to start as soon as you get in the world of terraria. This Mod will create base at the beginning of every world generation. This Mod develops bases automatically, keeping in mind all the active number of NPCs you will encounter during the gameplay.
High chances you may not like the architecture of the base, but it is nothing to worry about. You can modify it later when you have enough resources and time to change. Start with Base Mod will pace you up from the start of every world in Terraria. Most of the Veterans consider Start With Base mod one of the essential Mod to start with.
VeinMiner best terraria mods
While playing, you will notice that it will take loads of time to mine ores. Do not worry; VeinMiner is the best Mod for you in the world for mining ores. All you have to do is to load the VeinMiner Mod.
Then hold the VeinMine hotkey and my only one-ore tile. That is it. All the rest of the ore is yours associated with it. There is a feature of Whitelist through which you can only mine the ores you want to be mine entirely in this Mod.
VeinMiner was introduced in September 2019 still. It is also trending as one of the best mods among the veteran's community.
Fargo's Mutant Mod
Fargo's Mutant Mod adds a vast diversity of content across all the rounds of the game. This Mod has introduced four new town NPCs with a lot of new features; you might not have seen ever before.
These NPCs have introduced several new ways to gather up rare items and useful tools. Furthermore, Fargo's mutant Mod also has the Soul accessories, Boss Weapons, and Masochist mode. Fargo's Mutant Mod has eased the way of grinding. This Mod also has phenomenally useful items like Instavator.
The instructor can automatically make an elevator when you cast it anywhere. Fargo's Mutant Mod is one of the best mods.
The universe of Swords Mod
The universe of Swords Mod gives over 200 swords to you in the game. This Universe of Sword mod can work more effectively when we install it with the combination of some other mods.
Because some of the swords need a lot of grinding to obtain them, just like Sword of Inflation, Sword of Universe, etc., the universe of Swords mod can work in a better manner while you install it with imkSushi's Mod, Calamity mod, etc.
Conclusion
These are some of the best mods out in the world. However, there is a lot of variety out there; many new are in the development phase, and some are almost ready for their first launch in the world. We are eager to find out what will be the new giant bomb that will be next in the race of the best mods.