Neko Atsume Apk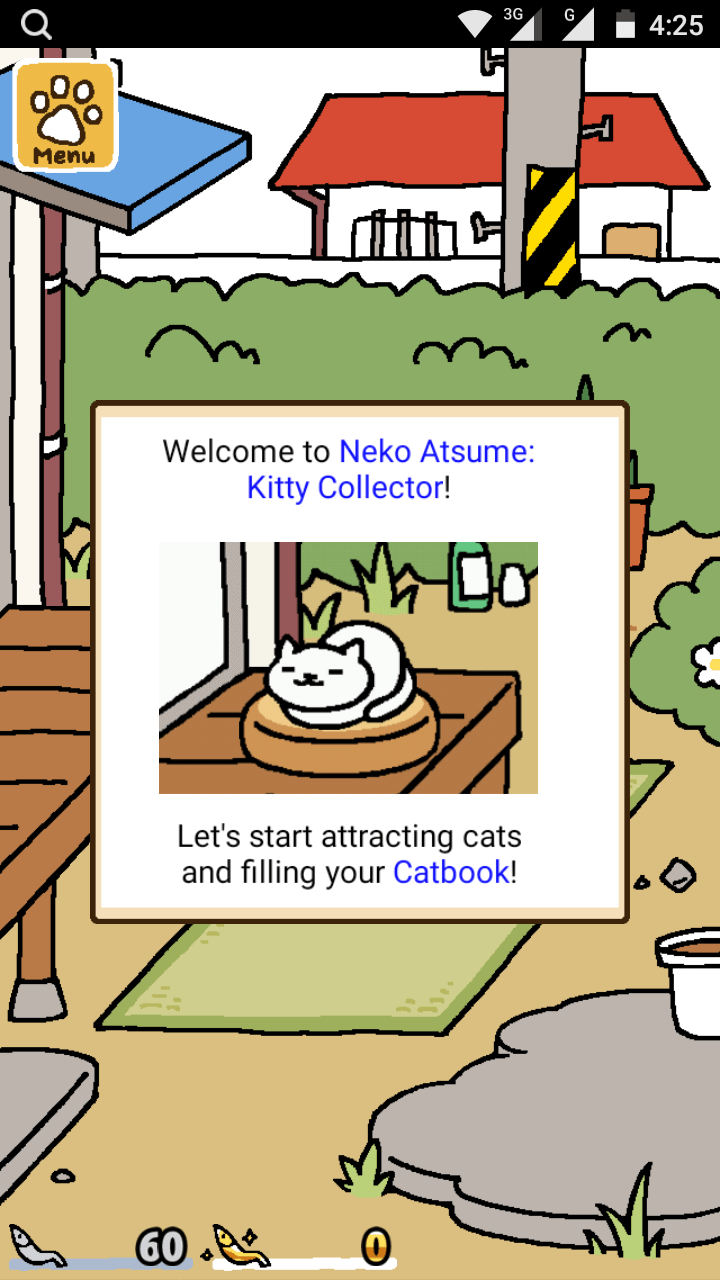 Description:
Title: Neko Atsume: Kitty Collector
Publisher: Hit-Point
Genre: Casual, Digital Pet
Platforms: Mobile
Downloads: Android / iPhone
Download Version: 1.11.0
Apk File Size: 20 MB
last updated: Dec. 21, 2017
Gameplay
Neko Atsume is probably the easiest game in the world to play. Once you download and open it, you're taken through a tutorial on how to set out treats and toys for any cats that wander into your yard. The goal is to lure them in with attractive food and fun playthings. The more toys and treats you put out, the more cats will show up in your yard.
After the tutorial is done, you're given a few fish (the game's currency) to buy your first cat toy. There's lots to choose from, and you won't be able to afford a lot of them at first. Many must be paid for with gold fish that you can earn through gifts from your cats or purchasing them through the store. You can also choose from different foods. Thrifty Bits is usually the choice for those starting out, but you can upgrade later to Frisky Bitz or Ritzy Bits. There's even sashimi you can put out.
The camera feature allows you to take pictures of your newly acquired felines. The game keeps track of how many times a cat has visited your yard through its Catbook, which profiles each and every kitty you meet. Make sure you snap a photo of new cats that enter your yard; they don't stick around forever, and kitties tend to come and go as they please. The game has a few rare cats, and more will be added in future updates.
Yard expansions allow you to double your yard's size and can be purchased in three different styles: Zen, Rustic and Original. Original simply expands upon your current style by adding a patio. Zen is modeled after a Japanese garden, while Rustic has a distinctive country Western feel.
Review
Neko Atsume is ridiculously fun for a game where you just feed cats. True, it can be annoying when Tubbs (a regular visitor) comes along and eats all of the cat food himself, but he leaves you a nice tip of fish to buy more. Additions to your yard can range from blankets to cushions to goldfish bowls. You can even purchase seasonal decorations like a panel heater to keep your cats toasty or a sled to play in the snow. The cutest thing by far are the cat butts. Every cat's backside proudly wears a non-descriptive "X". Not too many people can make a cat's poop chute adorable, but the creators have succeeded by a long shot. Now go forth and collect!
Download Neko Atsume APK game here: