Delta Exchange is a cryptocurrency derivatives platform where traders can take long and short positions on contracts using leverage. The leverage on Delta Exchange ranges from 20x to 100x on certain contracts, giving traders the exposure to larger position size with minimum investment.
Since its inception, Delta Exchange has ensured the traders do not face any liquidity issues on the platform and that has been up to its mark. Delta Exchange has also been prompt in introducing new contracts on the exchange based on the volumes and demands from other traders. This has ensured space has been open for innovation and new ideas.
Perpetual Swap Contracts on Delta
Perpetual Swaps are contracts that do not have an expiry date. Unlike traditional futures where the contracts have a fixed expiry date, perpetual swaps would not expire on a particular date. A significant feature of traditional futures is that on expiry the current price converges to the spot price. Since perpetual swaps do not have an expiry, the convergence of the current price to the spot price does not take place. Thus one defining feature of Perpetual Swaps is that the current price is always trading close to the spot price.
Currently, Delta Exchange has over 19+ contracts listed on their platform and most of them are Perpetual Swaps. On the date of writing this, there is just one contract that has an expiry date, the BTCUSD _27MAR. This contract will expire on 27th March 2020 and users might be able to roll over their positions onto the June expiry contract.
Delta Exchange Features
Functionality – The Delta Exchange interface incorporates a relatively easy to use trading platform for all its users. It also has a mobile web interface for traders who wish to trade from their smartphones. At present, Delta Exchange does not have an app but it is incorporated in their future goals. The platform includes trading charts, technical analysis indicators, and key statistical information. All these features help traders in improving their strategies.
Liquidity – This has been covered above, however, the liquidity on this exchange is something to throw light upon. Compared to other exchanges, traders have not faced any issues in closing their positions or slips. The platform wishes to serve their traders first and has ensured that the liquidity and volumes on contracts are not compromised.
Listed Contracts – Compared to the other exchanges out there in the market, Delta Exchange has 19+ listed contracts. This gives traders an array of options to select from to take positions in.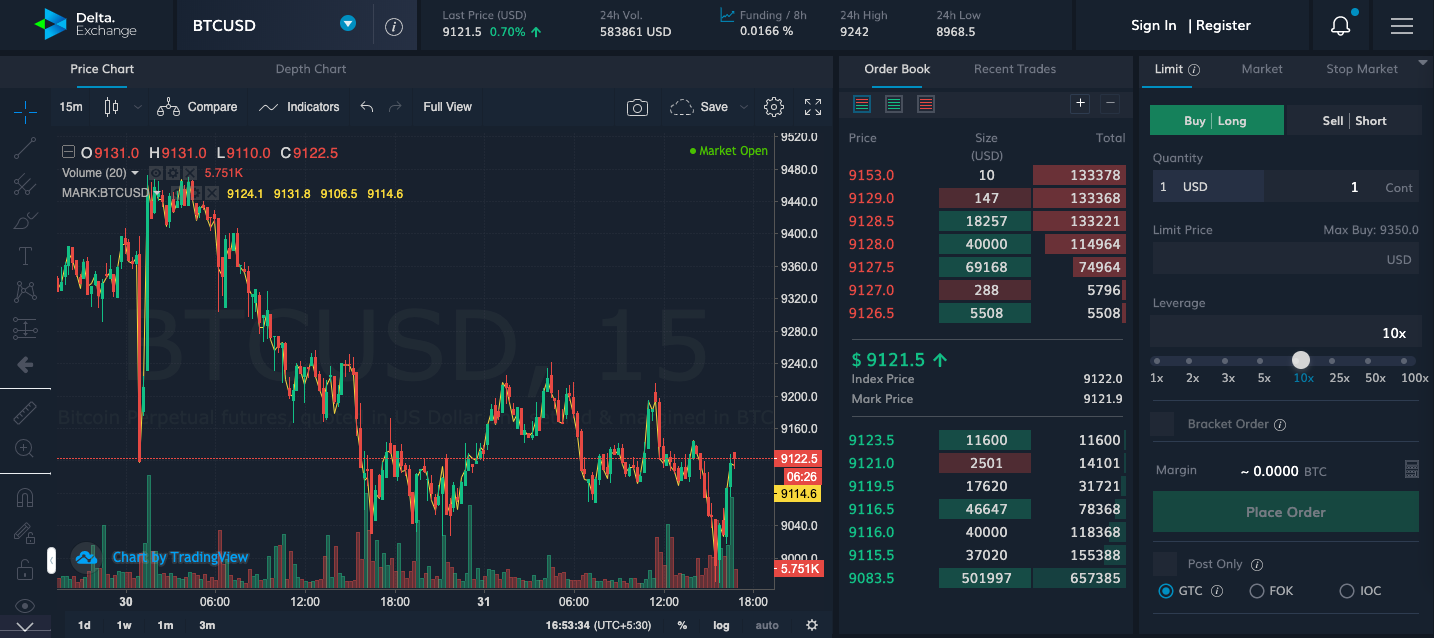 Customer Support of Delta Exchange
The support team of Delta Exchange is available for traders 24×7. In case of any issues, traders can send an email to the Exchange to get it resolved as soon as possible. Users can also get in touch with Delta Exchange via Twitter Account, Telegram Group or their FAQ's section on their website. The customer support is quite prompt and easy to interact with. Even though the website and groups are conducted in English, the customer support has been able to solve problems of users in other languages too, proving to be an all-inclusive platform.
Mock Trading on Delta Exchange
For users to understand the platform or for beginners to get a taste of trading, Delta Exchange provides a mock trading platform for all. This is a separate account from the main trading account. Here users are given some already deposited BTC and can start mock trading and trading in ethereum futures as well as other alt coins. The mock trading is completely in line with the live trading platform and prices. Users can get an exact feel of what it is like to trade on Delta Exchange. The profit/losses from the mock trading platform cannot be withdrawn or transferred to any other account. It is purely for mock trading practice, to give a live feel of trading with virtual money.
How to Make Deposit & Withdrawals
Depositing BTC on Delta is an easy process. While the charges for deposits are at no cost there are minimal charges for withdrawing BTC on the exchange. The table below explains the costs incurred while withdrawing BTC from Delta Exchange.
| | | | |
| --- | --- | --- | --- |
| Cryptocurrency | Min Withdrawal | Max Withdrawal ( per day ) | Withdrawal Fee |
| BTC | 0.001 BTC | 2 BTC/ day | Depends upon the state of Bitcoin Network |
Withdrawals are processed with a manual review once every 24 hours, between 12 pm – 3 pm UTC. Any withdrawal request received after 11 am UTC will be processed the next day.
Large withdrawals may require further KYC.