WhatsApp hacking is not a cup of tea for everyone, even when you don't have any coding skills, it becomes impossible. If you are a parent or a partner, you must get curious once to check your loved one's conversations to save them from getting into trouble
If you search Google for this cause, a whole lot of links pop-up which would absolutely waste your time in testing them. Moreover, many hacking applications play tricks to steal your personal information. Therefore, it arose the need for a reliable hacking solution which works as depicted.
Finding an easy to use application that stands true to all norms is a time-taking task. Sit back and relax as we have done the research for you and got these best hacking applications. Stay with me till the end to find out the usage and benefits of WhatsApp hacking applications.
WhatsApp Hacking Tools Online
To hack a WhatsApp account without any technical knowledge is impossible unless you get your hands on the right tool. WhatsApp hacking tools have made the job easier as they work just like casual applications and perform hacking practices automatically.
WhatsApp hacking tools are designed to hack accounts irrespective of the device they are being used on. Keep reading to get familiar with the best hacking application which fulfills all your hacking requirements.
Spyier, a Remote WhatsApp Hacking Application
Spyier has a reputed spying application used all over the world. To get your Spyier solution, go to Spyier official website. It has been recognized as a reliable WhatsApp hacking brand by international media outlets including PC World, Digital Trends, TechRadar and Life wire.
Spyier incorporates 100% useful features that work accurately for Android phones and iPhones. You don't have to install any third-party services or plug-ins for compatibility issues. Millions of users from more than 190 countries rely on Spyier to hack WhatsApp.
You can work secretly as Spyier takes care of your identity. You can't get caught by the owner of target device while reading their messages behind their back. You don't have to request their password anymore as you can read their messages effortlessly with Spyier.
Things that make Spyier Best Hacking Solution
Spyier is the ultimate spying application to hack WhatsApp account strategies. The user-oriented interface of Spyier has made spying a matter of a few clicks. We will discuss here a couple of things brought up by Spyier for your ease.
You don't have to download any application at your end. Spyier could be used from any internet-capable device as all web browsers support its dashboard. You can view their WhatsApp messages remote from the internet browser of your handheld devices.
No Root/Jailbreak required
Conventionally, rooting the target device is a must to hack it which is not possible without hefty lines of programming. Spyier doesn't require jailbreaking the device at all. You can install it and start spying on your close ones without resetting their mobile phone.
Spyier has built-in keylogger features that log all the keystrokes made on the target device. You can examine this recorded data to view all the messages sent from their smart devices and their social media accounts' credentials.
The cutting-edge technology of Spyier works secretly in the background without generating any notifications to make your hacking process secret. The stealth mode of Spyier helps you to hack a WhatsApp account without being caught.
How to Hack WhatsApp with Spyier?
Hacking a WhatsApp account with the help of Spyier barely takes 5 minutes. All you have to do is follow these step-by-step guidelines to get started with Spyier
Step 1:
If you are using Spyier for the first time, create an account from the official webpage of Spyier.
Step 2:
Select the target device type after signing up with Spyier. The working mechanism of Spyier is almost the same for Android devices and iOS however the installation is a little bit different. Android devices need physical access for installation whereas iOS allows remote installation with iCloud credentials.
Step 3:
Finish the installation wizard and click on start to open the dashboard. This is the place where the data of the target device will be logged and you can view it with your login id and password.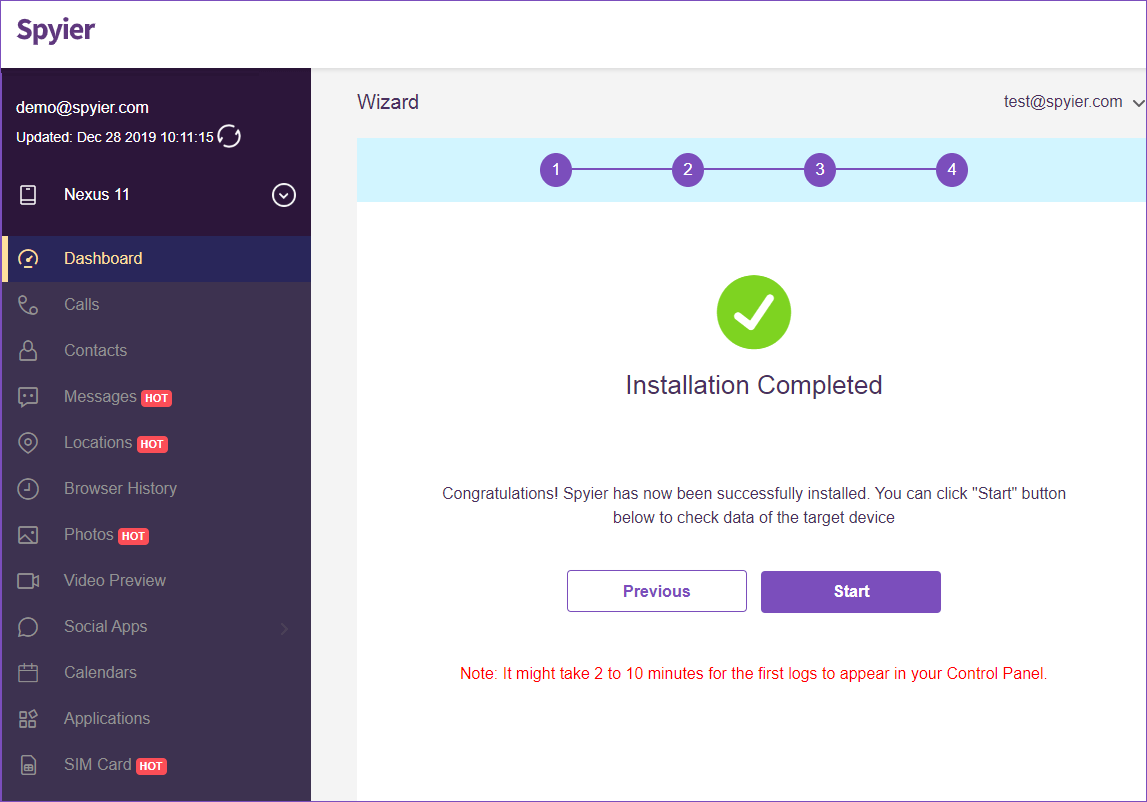 Minspy
You can also move on to Minspy after Spyier as it has also made hacking possible without coding complicated lines of code. It is a feature-loaded application for spying over different operating systems including Android and iOS.
You can get every bit of the data on the target phone including their WhatsApp messages after installing Minspy remotely. It does not require jailbreak or root the devices to hack their WhatsApp account. You can use Minspy to hack WhatsApp with only their phone number.
Spyine
Spyine is broadly used all over the world to hack someone's WhatsApp account without rooting their devices. Not only WhatsApp but you can spy on all social media accounts running on target devices stealthily.
After installation, Spyine disappears from the app drawer as it was never being there. You can get economical subscription packages and spy on more than one device simultaneously from your handheld devices remotely.
Spyic
Spyic is an efficient spying application when it comes to hacking a WhatsApp account remotely without touching the target device. You can use a web browser and access their WhatsApp conversations whereas they don't get any clue about this.
If you want to spy over Android mobile phones, you have to install Spyic on the target device by accessing it once. For iPhones, you can install Spyic remotely and hack them without any physical access. Spyic keeps your identity confidential and does not store your personal data.
5. Cocospy
Cocospy is a reliable WhatsApp hacking app that comes up with completely functional features. You can hack WhatsApp remotely and keep a record of their messages in Cocospy dashboard as it offers free cloud storage for its users.
The intuitive interface of Cocospy makes it an easy to use application for beginners. The fully functional features, economical packages, and stealth technology of Cocospy make it the best spying application in the market to hack WhatsApp.
Endnotes
These applications include the best pricing and useful features to make your spying practice error-free. You can remotely access anyone's conversations without them knowing it. It works for all kinds of operating systems and could be accessed remotely from any internet browser. You can also use other features of Spyier depending upon your hacking requirements.